How to Take an Asbestos Sample – DIY
Please Note: You cannot be sure that a material contains asbestos by just looking at it with the naked eye. Please, treat all suspect material as if it does contain asbestos.
All materials can be grouped into two categories: friable, i.e. the material can be crushed into powder by hand (e.g Acoustic ceiling spray), and non-friable or bonded (e.g. Floor tile, Sheeting). These amounts are adequate for testing:
– For friable samples – about 1 teaspoon
– For non-friable samples – between a 5 and 50 cent piece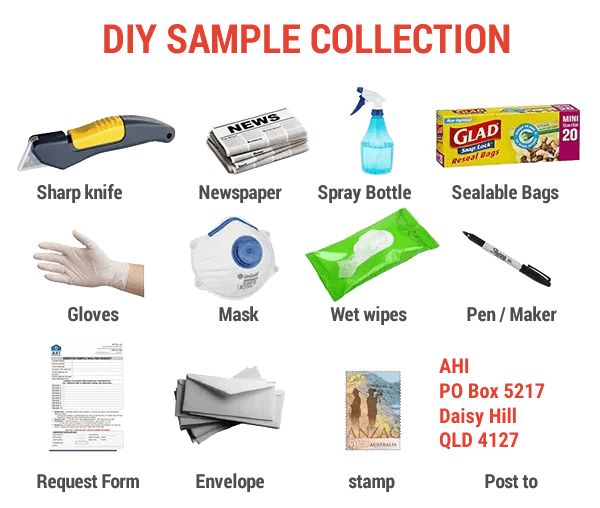 Turn off any cooling systems and fans to minimize the spread of any released fibers from wind and gather all your required supplies together before you start.
Put on disposable gloves and a dust mask – P2 or higher is recommended.
If possible, try to take the sample from a spot that is already damaged – a crack, or hole.  Otherwise it is best to take the sample from an inconspicuous place – not the center of the wall or ceiling.
Do not disturb the material any more than is needed to take a small sample.  Ideally it should be a minimum of a 5 cent piece but no more that a 50 cent piece.
Wet the material using a fine mist of water containing a few drops of detergent before taking the sample. The water/detergent mist will help reduce the release of fibers.
Carefully cut/scrape a piece from the entire depth of the material.  If you can get the to edge of the material you can break off a small piece with pliers.  If not, you can cut/scrape an area with a small knife or other sharp object – we use a safety knife during our sample collections.
Cut/scrape only a small piece of the material – between a 5 cent piece but no more than a 50 cent piece if possible.
Place the small piece into a clean container (for example, a ZipLock bag), then seal the bag.
Use a damp paper towel or wet wipe to clean up any material on the outside of the container, around the area sampled, and any tools and cutting implements used.
Label the bag with where the sample was taken from – Bedroom 1 wall or Bathroom ceiling etc.
Repeat the above process – Steps 5 to 10 – for each sample that is required.
Place all collected sample bags into another bag and seal.  All samples are now double bagged as required by the current legislation.
Complete the Asbestos Sample Analysis Request Form
Post the sample to:  AHI  PO Box 5217 Daisy Hill QLD 4127
Results: We will email you the laboratory results – usually within 24 hours of receipt.
Cost: $54 for the 1st sample and $44 for each subsequent sample. All prices include GST
Payment: Payment is required prior to the release of the analysis results. Details for Direct Deposit are on the Request Form or you can pay by Credit Card Form Credit Card Payment Authority
Laboratory: All samples will be analysed at a NATA accredited laboratory in accordance with Australian Standard (AS4964-2004).
Special Notes
For acoustic ceiling (popcorn ceiling) material, three samples from different locations is strongly recommended if it covers more than 500m2 .
The mastic or glue/adhesive under floor tile or linoleum is a separate sample and subject to an additional sample charge. Do not scrape the adhesive, just send an appropriately sized sample with attached adhesive/mastic. As long as the adhesive is visible under the flooring material, we'll separate it ourselves.
For vermiculite insulation, collect at least one tablespoon of material. Testing at least two samples from different areas is recommended. Ensure the sample is from the full depth of the material and not just scraped off the surface.
Need additional information – Call our office on 1300 141 662 or 0410 956 726
If you would prefer one of AHI's trained technicians to come and take the sample for you, please call our office for details.